SPECIAL FEATURE

Philip Ahn
Tia Carrere
Margaret Cho
Church of Rhythm
Michael Kang
Hiroshima
James Hong
Michael Kang
Bruce Lee
Jet Li
Keye Luke
YoYo Ma
Martial Law
Minoru Miki
Lea Salonga
Dalip Saund
George Takei
Kiana Tom
Tamilyn Tomita
Ming-Na Wen
Anna May Wong
Russell Wong
HOME
COMMENTARY
Don Duong
Martial Arts Influence
Indo-American Films
Media Ownership Limits
Police Movies' Success
Reality Shows Provide Networks' Cheap Shows
Playing the Same Roles
Musicals
Sequels
TV Stereotypes
Unscripted TV Shows
Wanna Be a Star?
INTERVIEWS
Keiko Agena
Roger Fan
David Henry Hwang
Amy Tan
Mira Nair
Vivek Oberoi
Die Another Day
Will Yun Lee
Zhang Ziyi
RESOURCES
Children Now's
FENNEC Database
Poop Sheet
Wanna Sell a Script?
BUSINESS INFO
Film Financing
2002 - Film Co, Statust
Hollywood's Managera
Murdoch in China
MEDIA INFO
4 Maverick Directors
Bollywood
Censorship
Disney Editing
Pusan Intl. Film Festival
Indie Directors Tales
Niche Networks
WB's 1st Chinese language Production


BEYOND BLACK AND WHITE
Breaking of the Second Color Barrier in American Sports

Written By Bill Lee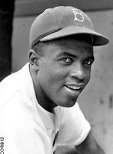 Jackie Robinson

Jackie Robinson made history in America by becoming the first black baseball player in the Major Leagues in 1947. Whereas colored people were previously banned from playing in the majors, Jackie Robinson broke the color barrier and became a star in the Majors. His persistence, skill, desire, and love for the game is well remembered, and his milestone achievement has set new openings for blacks in baseball and other sports. Woody Strode and Kenny Washington entered the modern era NFL in 1947, and in 1950, Earl Lloyd made history as the first black player in the NBA.
For the latter half of the 20th century,
black Americans quickly filled the roster spots of professional sports teams in America, and whereas once a minority, the black athlete became a dominant force in the NFL and NBA. Regardless of who the majority or minority was, racial groups in professional sports were either black or white, and Asians were hardly known or seen in athletics.
That was decades ago, where professional athletes in America were simply grouped as black or white. Actually, there were very few Asian athletes back then, such as Chinese American Walter Achiu, running back and punt returner, in the 1927-1928 NFL and Japanese American Wat Misaka, point guard, in the 1947 NBA, but they were too far and few in between. In more recent years,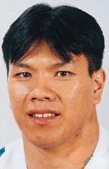 Dat Nguyen

Asians have finally made a breakthrough in modern day pro sports in America, and made a positive impact in the media and provided role models to many Asian Americans in a field which had few predecessors.

In the NFL, Korean American Eugene Chung from Virginia Tech entered the NFL in 1992. A regular starting offensive lineman at Virginia Tech, he was selected in the first round. Several years later, Dat Nguyen, a Vietnamese American linebacker from Texas A&M, was selected in the third round of the 1998 NFL draft.
AsianSportsNet
Background Information
The website www.AsianSportsNet.com is dedicated to provide useful, objective, and updated information to the global readership about Asians in professional sports in America, and Asians in Asia who have the potential to enter American professional sports.
It is meant to provide a centralized collection of links and articles, as well as a permanent archive, relevant to the topic of Asian athletes.
It went online on February 2003.
Email the editor about any questions or comments.
The NBA game
has extended beyond the borders of America. Where few Asians had brief stints with the NBA,
Wang Zhi Zhi from China found a solid roster spot after being selected in the second round of the 1999 NBA draft. At 7'1" and possessing accurate shooting skills, Wang has the tools to succeed in the NBA.
Menk Bateer, a roadhouse blocker type at 6'11" and a hefty 290 pounds, was a teammate from the Chinese National basketball team who joined the NBA a few years later as a free agent.
The biggest Asian impact on the NBA, and possibly on the entire American sports scene, is Yao Ming. At 7'5" and possessing incredible agility and shooting skills, Yao was selected as the number one overall draft pick in the 2002 NBA draft. He made an immediate impact with the Houston Rockets, becoming a regular starter and nearly leading the Rockets to the championship playoffs, a previously unattainable scenario for the Rockets.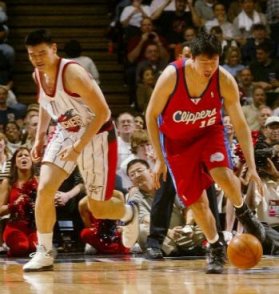 Yao and Wang
The Great Walking Wall of China,
Wang Zhizhi, Menk Bateer, and Yao Ming, showed to the world that Asians do have the potential to make it in pro sports. With NBA international recruiting scouts confirming the presence of dozens of 7 foot tall basketball players in the northern provinces of China, and a few in Korea such as the 7'3" and growing high school student
Ha Seung Jin,
having Yao Ming's potential in size and skills, and the overwhelming majority of these prospects being younger than 21 years of age, the Asian impact on the NBA will only increase in the 21st century, an influence that cannot and will not be ignored.
Baseball has seen the most prominence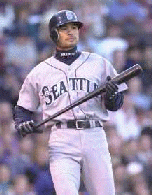 Ichiro Suzuki
of
Asian athletes.
While a few Asian Americans have entered the Majors in the 1970s, Ryan Kurosaki and Lenn Sakata, the Asian impact of America's Major League has been across the Pacific, namely Japan and South Korea. Pitchers like Chan Ho Park, Hideo Nomo, Kazuhiro Sasaki, Byung-hyun Kim, and Kazuhisa Ishii, and positional players like Ichiro Suzuki, Hee Seop Choi, and Hideki Matsui, and all Asian players numbering over a total of 20 on the 2003 Major League rosters, have proved to the world Asians have a permanent place in baseball.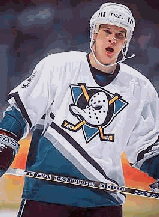 Paul Kariya
Hockey has seen its share
of Asian hockey stars as well. Jimmy Chison Paek, a Korean Canadian who has played in many Canadian professional leagues, joined the NHL in 1990 and helped lead the Pittsburgh Penguins to two consecutive Stanley Cup Championships. Paul Kariya, who's father is Japanese, joined the NHL in 1993 and became a strong contender with the Anaheim Mighty Ducks. Richard Park is another noteworthy Asian American hockey player who joined the NHL in 1994, as well as a few other half-Japanese players who later joined, namely Steve Kariya, Jamie Storr, and David Tanabe.
Other professional sports leagues in America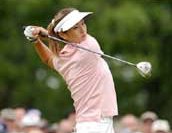 Grace Park

have their share of Asian American and overseas Asians. Among the more prominent Asian American athletes are Among overseas Asians, Se Ri Pak is possibly the best Asian golfer in the LPGA, and over a dozen professional golfers from Korea soon joined her in the LPGA.

Athletics in America are no longer black and white.
Photo of Amy Yee in Action
Courtesy of Seattle Times

"As an exceptional tennis player and an inspirational community leader, now one of West Coast's top-rated tennis facilities, The Tennis Center on MLK, Jr. Way, was renamed in Amy Yee's honor in 2001."

The Wing Luke Asian Museum celebrates yesterday and today's local and national Asian Pacific American sports heroes. Come learn how sports has been used as a vehicle for empowerment and unity in the Asian Pacific American community.

The exhibit includes the oral histories of APA Athletes and others involved in the area of sports. The exhibit will display an array of sports artifacts and paraphernalia.
In this new millennium, it is a bright color spectrum that encompasses all colors and races. It has extended beyond the borders of America and gone global. The hundreds of millions viewers in China who have watched Yao Ming debut in the NBA, the millions of dollars generated by commercials and promotionals done by several popular Asian athletes, the positive role models for Asian Americans in a previously untouched territory, Asians have made a statement to the world through American sports.
The terms Asian, American, and Athletics, are synonymous. The website www.AsianSportsNet.com recognizes the AAA term, and celebrates the positive impact of Asian athletes in American sports.




Any questions regarding the content, contact Asian American Artistry
site design by Asian American Artistry
Copyright © 1996-2003 - Asian American Artistry - All Rights Reserved.